GOLearn webinar series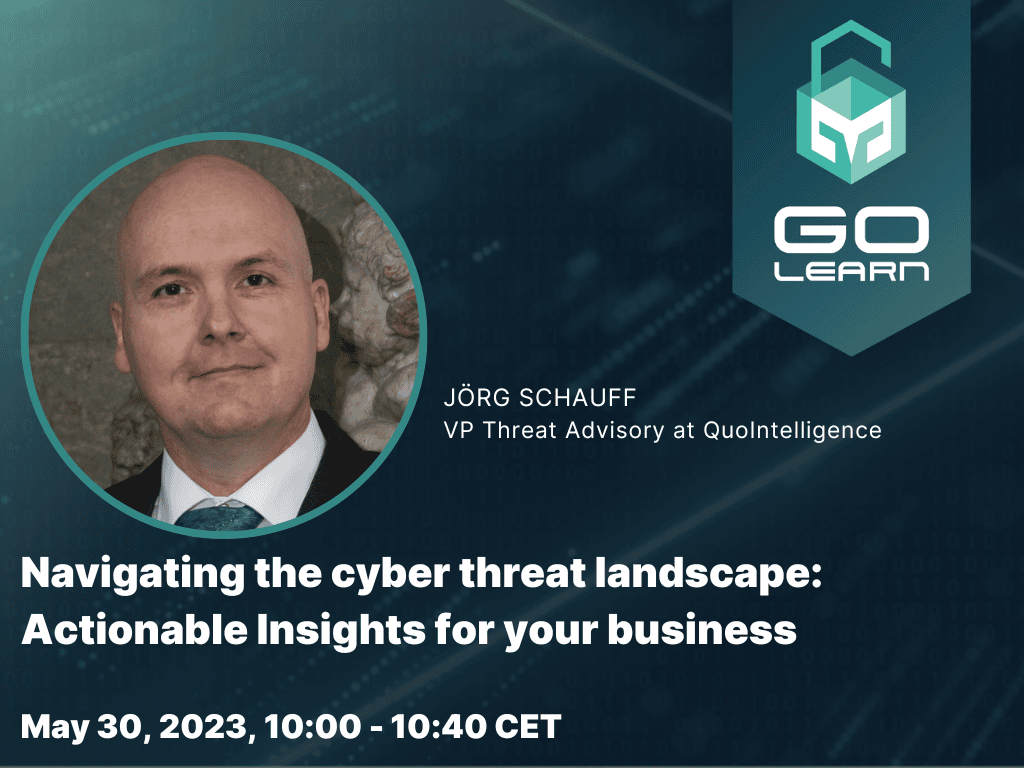 Join us for our live webinar on Navigating the cyber threat landscape: Actionable Insights for your business.
May 30, 2023, 10:00 - 10:40
Navigating the cyber threat landscape
Jörg Schauff, VP Threat Advisory at QuoIntelligence
In today's rapidly evolving cyber threat landscape, it's crucial for organizations of all sizes to stay informed about key threat actors, their objectives, and the latest attack techniques. Gaining this knowledge equips organizations to proactively defend against threats, tailor their cybersecurity strategies, and maintain a strong security posture. In our latest GOLearn live session, GObugfree CTO speaks with internationally-experienced intelligence and cybersecurity expert Jörg Schauff. Drawing from over 20 years of experience in both civilian and military security environments, Jörg will explore the current threat landscape and demonstrate how gaining insight into these challenges can empower organizations of all sizes to fortify their defenses and reduce the risk of a successful cyber attack.
Learn more about:
Understanding the objectives and tactics of threat actors
Identifying the most relevant threat actors for your industry and organization learning how threat modeling can help prioritize your cybersecurity efforts
Gaining insights into real-world examples of cyber attacks and successful defenses
Exploring best practices for incorporating threat intelligence into your security strategy
Join us on May 30 for actionable insights to enhance your organization's cybersecurity posture.
Jörg Schauff is is an internationally-experienced intelligence and cybersecurity expert with over 20 years' experience in the security environment — both civilian and military.
Jörg's threat intelligence career began at the German Federal Office for the Protection of the Constitution (BfV) in the Counterintelligence Department. Supporting national and international counter espionage operations in government and industry, he focused mainly on threats from the Russia and China nexuses. As a civilian advisor to the Bundeswehr Cyber Command (KdoCIR), Jörg contributed to the German military's cyber threat intelligence program.
Jörg has held several high-profile senior roles at several Fortune 500 companies — including Vice-President for Threat Intelligence at Deutsche Bank. Prior to his start-up journey with QuoIntelligence, Jörg managed the Strategic Threat Advisory Group of CrowdStrike in Europe and supported the development and implementation of cyber threat intelligence.
Jörg was born and raised near Köln. When not advising on threat intelligence, he substitutes the dangerous internet highway for the relatively safer tarmac ones traveling around Europe in his motorhome.
Register